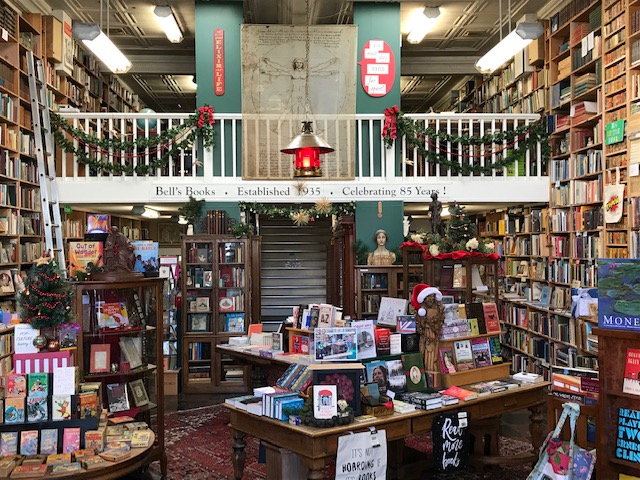 We are open for in-store shopping from 11 to 5 every of day of the week. Please call 650-323-7822 if you have any questions. We are happy to fill specific requests, or to suggest good reading that can be picked up at our doors, depending on your comfort level. See the News for more information.
Check out the fabulous windows on our Instagram account: @windowsofbells 
Also, see our COVID Safety Policies
The News page will let you know about any special offers and updates!
Recent months have brought us a cornucopia of rare book collections; scarce 18th century volumes of Shakespeare, signed editions by  T.S. Eliot, H.G. Wells, Annie Dillard, Harper Lee, Ursula Le Guin, and Robert Frost; first editions of Richard Brautigan, John Steinbeck, Rudyard Kipling, F. Scott Fitzgerald, Virginia Woolf, and J.R.R. Tolkien. We've added to the displays with the latest new releases, including  Barack Obama's A Promised Land.
Located in downtown Palo Alto, Bell's has served the Stanford University and Silicon Valley communities, providing new, used, and rare books since 1935.
Our century-old storefront houses 300,000 volumes on two floors. Spilling over with hardcover and quality paperback books in 500 subject categories, there is, quite literally, something for everyone at Bell's: 
Fine bindings, large format art books, 19th Century treasures, second-hand reading copies of classics at affordable prices, children's picture books, signed first editions, technical books, philosophy, an entire history room, handsome sets, ornamental horticulture, thousands of volumes of poetry, literature, architecture, religion, natural history and more…
We would love to help you build a collection of your own.
Bell's purchases fine books and private collections.