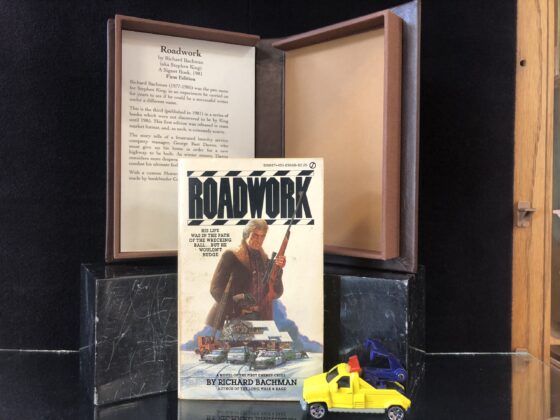 Richard Bachman (1977-1985) was the pen name for Stephen King, in an experiment he carried on for years to see if he could be a successful writer under a different name.
Roadwork is the third (published in 1981) in a series of books which were not discovered to be by King until 1985. This first edition was released in mass market format, and, as such, is extremely scarce. 
The story tells of a frustrated laundry service company manager, George Bart Dawes, who must give up his home in order for a new highway to be built. As winter ensues, Dawes considers more desperate and violent measures to combat his ultimate feeling of helplessness.
This book comes with an exclusive custom Moroccan leather clamshell box made by local bookbinder Constance Hunter.